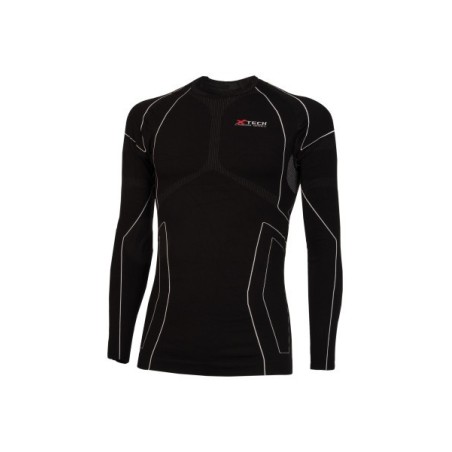  
Race 3 - X-Tech round neck long sleeve winter undershirt
The X-Tech Race 3 long-sleeved technical jersey is recommended for walking and sporting activities in the mountains and on the snow, for motorsport and bicycle use, both on the road and on MTB. The ideal solution for those who want a garment in breathable fabric that offers thermal protection at temperatures between -20° and 10°.
Ref.
The composition of the Race 3 thermal shirt contains, in addition to polypropylene and elastane, a yarn with unique technical characteristics: Resistex® Carbon. Consisting of a filament of conductive material based on active carbon and textile fibres, the Resistex Carbon yarn allows the Race 3 thermal jersey exceptional breathability and rapid evaporation of humidity, also reducing the risk of injuries and muscle tears.
The presence of elastane ensures a snug fit that makes the Race 3 technical jersey ideal for wearing under other garments, such as sweatshirts and jackets, without constraints.
Race 3 is available in black in the crew neck, turtleneck and turtleneck with zip variants.
All X-Tech underwear and thermal clothing is 100% made in Italy, built with high quality materials and innovative technical fabrics with unique performance.
Technical features
88% Polypropylene
8% Elastane
4% Carbon
Breathable fabric
Made in Italy
Customers who bought this product also bought:
Other products that may interest you