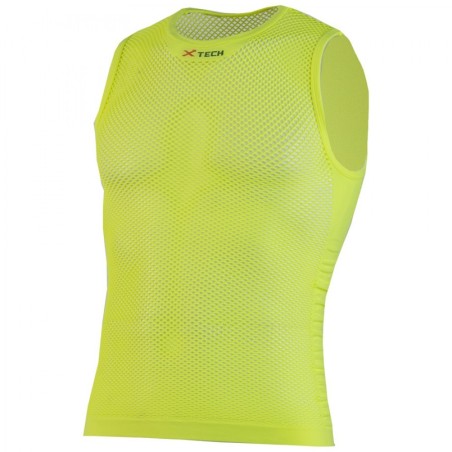  
X-Tech Air Evo sleeveless summer base layer
The X-TECH AIR EVO sleeveless undershirt is made with SEAMLESS 3D technology in hollow fiber polypropylene and polyamide microfiber which give high breathability, lightness and optimal thermoregulation both in weather and in winter and good resistance to wear.
The particular three-dimensional cell structure allows you to double the active tissue surface. This structure favors the support of the muscles and adheres perfectly to the anatomy of the body.
The ventilation system is favored by a hexagonal weave, located in the areas of the xtech underwear shirt affected by the greatest perspiration.
By increasing the flow of air in the wefts of the fabric, the xtech jersey will favor the process of evaporation and air conditioning.
The elasticity and adherence of the fabric guarantee maximum freedom of movement.
STRENGTHS:
• BREATHABLE
• LIGHT
• WEAR RESISTANT
Composition
55% X-Dry (PP)
33% X-Pro (PA)
8% Elastane
4% Carbon Resistex
Customers who bought this product also bought: